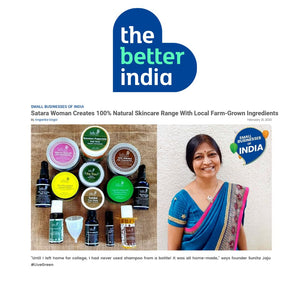 Empowering Communities while Protecting the Planet
The Better India
Every morning, Sunita wakes up at 5 am in the morning and goes about
finishing her household chores. Once she is done making breakfast, she
leaves for her unit located 15 mins away where she works on her formulations.
Naturally, the road to a successful business has not been an easy one for the busy mum."I think one of the biggest challenges for me was to learn how to make my own formulation which I have improved upon with persistence. The other challenge is to ensure the ingredients we use are completely pure. We do not want to compromise on that and deliver on her promise.," states the mum.


Read More on The Better India
towards conscious consumption
The Indian Express
The company has been ticking the right boxes. It is vegan and cruelty-free, its manufacturing unit is designed to optimise the use of natural light and, except for monsoons, needs little artificial light. It follows a zero-liquid discharge process, with all effluents being treated and used for gardening on the premises. Rustic Art's beauty
formulations, from lip tints to hair conditioning bars, are efforts to
combat plastic waste. The manufacturing process involves hand blending, packing and labelling by local women, who form 80 per cent of the staff.
Read more on The Indian Express